WITLife is a periodic series written by professional Writer/Interpreter/Translator Stacy Smith (Kumamoto-ken CIR, 2000-03). She starts her day by watching Fujisankei's newscast in Japanese, and here she shares some of the interesting tidbits and trends together with her own observations.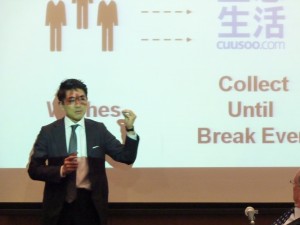 Last night I attended a symposium on Entrepreneurship in Japan (日本の企業家精神; nihon no kigyouka seishin) hosted by the Columbia Business School's Center on Japanese Economy and Business.  The three panelists (two present, one via video from Tokyo) represented a variety of generations and backgrounds.  In 1985, American-born Ernest Matsuo Higa revolutionized Japanese home pizza delivery after obtaining the exclusive license to Domino's Pizza.  Atsushi Imuta (participating from Tokyo) quit his job at a Japanese bank to found RISA Partners, an invesment banking firm.  Kohei Nishiyama, the youngest of the group who was raised in Columbia and went to university in Japan, invented the Design To Order system which allows manufacturers to reduce risk by carrying out product development based on customers' requests.
An article on Japanese entrepreneurship in last month's Eurobiz Japan highlights how within the Japan's educational system there is the idea of entrepreneurship and risk-taking being undesirable, and that in order for things to change education needs to be used as tool advocating entrepreneurship.   Higa expressed that the climate for entrepreneurs was improving, perhaps as a side effect of the economic recession.  Before the best and brightest would have automatically entered the top companies, but now that this option is not always available, many have no choice but to become entrepreneurs.  But rather than a default option, the next generation needs to hear the message that starting something new is cool and making money as an entrepreneur, something often criticized in Japan, is not a bad thing.
According to Higa, all entrepreneurs in Japan are mavericks as they are pursuing something uncertain that is high risk and low return.  One reason is the government's pro-establishment stance, which includes high personal income and inheritance taxes which are a disincentive for entrepreneurs. Also in terms of social status, even someone who is a successful entrepreneur receives less acclaim than someone who took the traditional path and entered a large company.  Whereas in the U.S. we might support the underdog, in Japan they tend to side with stability.  Also, whereas here failure can be seen as a badge of honor before you dust yourself off and try again, in Japan it has more negative associations.
Risk aversion also factors into the financing of entrepreneurs.  In Japan there is lack of a venture capitalist network, hindering access to sophisticated investors.  You can get loans from banks if you have collateral, but they tend to shy away from taking a chance on something different.  Nishiyama (pictured above, courtesy of John Ellis-Guardiola) detailed how he had to get his start-up money came from angel investors based in the U.S. or those who had spent a significant amount of time in the U.S.
Imuta emphasized the importance of spreading the culture of entrepreneurship in Japan, namely the fact that it's fun to start something new and manage a company and its risks.  He recalled that when he quit his job at the bank, 10% of the people admired him but 70% were suspicious of why he did, thinking he was involved with embezzlement or other illegal activity.
Clearly, in order to further cultivate Japan's budding entrepreneurs societal and regulatory changes are necessary.  This is occurring on an incremental basis, as evidenced by the appearance last fall of the Japan Times column The Wisdom of Entrepreneurs, which profiles up and coming entrepreneurs .   At Columbia Business School, entrepreneurship is the most popular track for students, and getting the Japanese as passionate about this concept could go a long way in exploiting the country's latent entrepreneur culture.