WITLife
is a periodic series written by professional Writer/Interpreter/Translator
Stacy Smith
(Kumamoto-ken CIR, 2000-03). She starts her day by watching Fujisankei's newscast in Japanese, and here she shares some of the interesting tidbits and trends together with her own observations.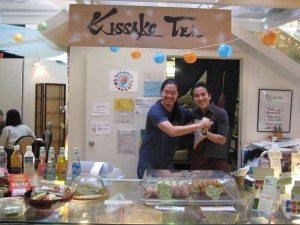 My interpreting travels bring me to San Francisco this time, and I couldn't leave without paying a visit to Japantown.  I hadn't been there in a couple of years, but I clearly remembered  the array of restaurants, souvenir shops and an onsen-like spa I once had a soak in.  I went with a friend who was craving something sweet and wanted a recommendation, so I suggested we get 白玉汁粉 (shiratama shiruko), one of my favorite Japanese desserts following ぜんざい (zenzai).  We went to Kissako Tea where we were served by Hiro and Koji, pretending to be a charming couple.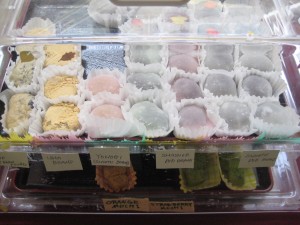 .
Kissako also had a nice selection of mochi  (pictured left), including strawberry, orange and lima bean, but I wasn't blown away so didn't sample any.  I had heard of Benkyodo, a mochi specialty shop where it is handmade and there is more variety, but they are not open on Sundays.  Something to be tried on another trip…
After we satisfied our sweet tooth with the shiratama shiruko washed down by green tea, we took a walk around the mall which is a mix of places with yukatas and other Japanese clothing, a fairly large Kinokuniya, purikura booths, and stores selling Sanrio products.
Speaking of Sanrio, there was an interesting article in the NYT the other day called "In Search of Adorable," regarding the company's strategy in finding a character to replace the legendary Hello Kitty who has dwindled in popularity at age 36.  The article cites that "Hello Kitty lost her long-held spot as Japan's top-grossing character in 2002 and has never recovered," something surprising considering how you see her plastered everywhere both here and at home (she is beaten out by Anpanman!).  However, the article discusses that part of her problem might have been this very overexposure.
Somehow replacement candidates such as the pink dalmation Spottie Dottie and the baby panda Pandapple have not been able to capture the same kind of merchandising magic as Hello Kitty, so it is back to the drawing board for Sanrio.  Who will be their next character to take the world by storm?