WITLife is a periodic series written by professional Writer/Interpreter/Translator Stacy Smith (Kumamoto-ken CIR, 2000-03). She starts her day by watching Fujisankei's newscast in Japanese, and here she shares some of the interesting tidbits and trends together with he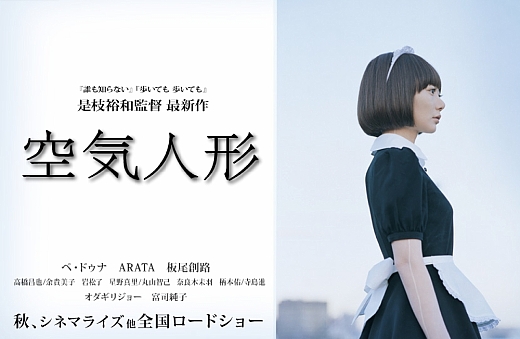 r own observations.
My current DOS interpreting assignment regarding food safety has kept me busy, but a weekend here in the farm country of Illinois has allowed some time to catch up.  When I was in DC earlier this week, the annual Filmfest featuring a variety of international films was taking place.  While flipping through the program booklet, I was happy to find that the latest release of one of my favorite Japanese directors, Hirokazu Kore-eda, was being screened.  Some of his well-known previous works are After Life (ワンダフルライフ), Nobody Knows (誰も知らない) and Still Walking (歩いても 歩いても), and his newest is Air Doll (空気人形).
This two-hour plus movie came out in Japan last year, and it is based on a 20-page graphic short story published by manga artist Yoshiie Gouda.  It stars South Korean actress Bae Du-na as the blow-up doll companion to a middle-aged man, Hideo, who uses her as a replacement for his former girlfriend, even giving her the same name of Nozomi.  At the beginning of the movie she comes to life, and her adventures begin.  Nozomi hides this fact from Hideo, but she is out and about during the day, even getting a job at the local video store.
She ends up falling for her co-worker, played by the actor Arata who After Life fans will recognize as the main character from that movie (Another awesome star turn is that of Joe Odagiri as the doll maker).  As Nozomi's relationship with him deepens, so changes the dynamic of her relationship with Hideo.  Due to these shifts, changes emerge that are both emancipating and tragic.  The movie is woven with this dual-natured theme of frivolity and melancholy, as well as the frail interconnectedness that characterizes humanity.  Throughout the movie, Nozomi often expresses that she wishes she hadn't "found a heart."
Aside from the main characters, there is a supporting cast formed by the residents of Nozomi's apartment building, sad souls who all inhabit their own worlds of darkness.  They serve to emphasize the point that like Nozomi we all have our own bit of hollowness, despite how things might appear on the outside.  I came away from this movie with a strong feeling of 寂しさ (sabishisa) or loneliness, perhaps because I was away from home or maybe just because it had that effect on me.  I am not sure if this is what Kore-eda intended for his viewers, but it definitely left me more to mull over than with Still Walking, whose simple, quasi-autobiographical story was slightly disappointing.  You can find Air Doll at Midnight Video and other local Japanese stores (not sure about subtitles), so check it out as well as some of Kore-eda's other masterpieces!