WITLife is a periodic series written by professional Writer/Interpreter/Translator Stacy Smith (Kumamoto-ken CIR, 2000-03). She starts her day by watching Fujisankei's newscast in Japanese, and here she shares some of the interesting tidbits and trends together with her own observations.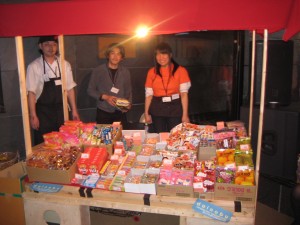 This weekend Japan Society hosted the inaugural 12-hour extravaganza known as "j-cation".  The line-up of events was kicked off by the movie Flavor of Happiness (幸せの香り or Shiawase no kaori), the story of a father-daughter relationship between an aging Chinese chef and his young female apprentice.  A bit long and sappy, but the food images were to die for!  In various corners of Japan Society several workshops were simultaneously taking place, such as furoshiki (wrapping cloth) folding, Japanese tea and sweets and calligraphy classes.  There was also an assortment of stands with Japanese products, such as this outpost of (Kumamoto-born!) Dainobu convenience store selling sweets.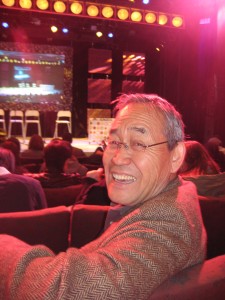 However, the highlight of my afternoon was the "luscious lecture" called Table Talk that featured Takeru "The Tsunami" Kobayashi.  This hot dog eating champ, whose record is 50 in 12 minutes and who won the Coney Island competition for six years straight from 2001-06, revealed some of his secrets and back stories.  The person who happened to be sitting in front of us for the talk was none other than Japan Society President Motoatsu Sakurai!  He chatted with us for a bit, lovely as always, and judging by his frequent laughter he seemed to enjoy Kobayashi's talk as much as the rest of the audience.
32-year old Kobayashi shared that he got his start as a college student, when his friends noticed that he could put away an insane amount of food and contacted the local media.  Now competitive eating is his full-time career, and he participates in about 12 events a year.  His favorite contest foods are soft, easily digestible ones such as tofu and curry rice (the latter was the food at his very first competition!).  During the off season, his favorite foods to eat non-competitively are bagels, tofu and yogurt.
As pictured, Kobayashi was outfitted in a sleek black jacket and scarf,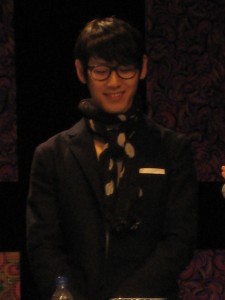 and this osshare image was quite different from the typical one of the Coney Island champion with blond hair and bandana.  In response to the question of what he would like to challenge archrival Joey Chestnut with should they ever meet at a contest in Japan, his answer was sushi or onigiri.  When asked about his weight fluctuation, he said he was currently 130 pounds but could go as high as 200!
But enough with the table talk, the audience wanted to see Kobayashi in action, demonstrating his famous hot dog halving and bun soaking technique (Fun fact: If he eats 60 hot dogs during a competition, they will be accompanied by two gallons of water!).  He took on the two hosts (on left) who never stood a chance.  He finished his hot dogs with time to spare and then helped them out with theirs.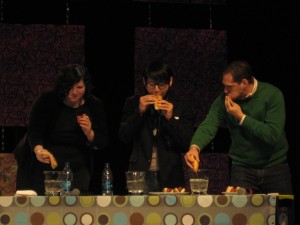 In sports news, 18-year old Japanese female knuckleball pitcher Eri Yoshida has joined the Chico Outlaws of the Golden Baseball League.  According to Salon, "the 5-foot, 114-pound Yoshida became Japan's first female pro baseball player last year when she pitched for the Kobe Cruise 9 in the Kansai Independent League."  Best of luck to her here in the States!