WITLife is a periodic series written by professional Writer/Interpreter/Translator Stacy Smith (Kumamoto-ken CIR, 2000-03). She starts her day by watching Fujisankei's newscast in Japanese, and here she shares some of the interesting tidbits and trends together with her own observations.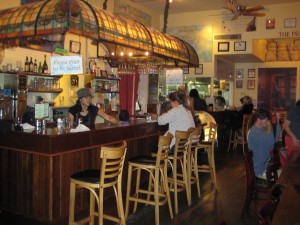 Following our time in America's heartland my group and I have since moved to the Bay Area, where we are continuing our study of food safety here in the States.  One participant requested that we go to eat at a vegan restaurant, as this is not a common concept in Japan.  In fact, one night we had a heated conversation regarding the distinction made between the values of plant/animal lives, as well as the viability of vegetarianism.  Veganism was a whole other extreme for them, but as they say, don't knock it till you've tried it.  So we were off to San Francisco's Cafe Gratitude.
My participants were surprised at how delicious all the food was despite the limited ingredients.  We had a sampler which included various spreads such as olive and hummus, and the red lentil soup of the day which was heavenly.  We also shared a coconut curry soup as well as a sweet porridge, followed by nut milk based vanilla ice cream for dessert.  None of us had known what to expect going into it, but we all left feeling very satisfied.
Part of Cafe Gratitude's premise is, as its name indicates, to increase awareness of what we have to be grateful for.   They have a question of the day to stimulate customers, and the one we received was "What inspires you?"  Our answers were varied (animals, new encounters, people who try to improve the world) but it certainly got us all thinking.  In introducing the restaurant to my guests, I had translated it as 「感謝カフェー」 (kansha cafe).  However, they said that if that was the name of the actual cafe in Japan it wouldn't attract customers as it sounded rather dull.
This spurred a whole conversation about what the meaning of 感謝 is in Japan, and both women said that this sentiment is not one that adults would often express, for this would be seen as going too far.  Of course it is a component of the pre-meal "itadakimasu" and conveyed either verbally or in correspondence when leaving a long-time position, etc., but it not something that would really be thought about on a regular basis.
Here too of course gratitude is something we take for granted, and part of the cafe's purpose is attempting to remind people of its importance.  The participants didn't seem to think this idea would fly in Japan though, and it was an interesting concept to discuss with them.  Personally I find Japanese to err on the appreciative side (i.e. on their birthdays I have friends who thank their mothers for giving birth to them), but perhaps that was a wrongful assumption.
On a different note, a recent NYT article about Japan's "poverty problem" is worth checking out if you haven't already.  It was selected as part of the roundup in the Week in Review section two Sundays ago, and it really speaks to an issue that is receiving significant press coverage as of late.  Also another interesting article from the Japan Times talks about the wall Japan has in regard to bringing in foreign talent and internationalizing its own populace.